Posted by rj jukes on Friday, October 15, 2010
DRUMMERS GONE WILD IN MIAMI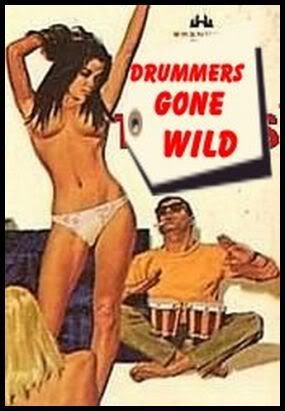 INTRO: It takes a lil over 12 hours to go from Memphis to Miami on a Silver Eagle tour bus. I find the best way ta pass the time is with a long session of PlayStation. This has entirely nothing to do with the following story, but it does leave ya inna some
what offa altered state by the time ya step off the bus .
But nothing coulda prepared me for this ...
So ...
I was roamin' 'round myspace and came across a blog by one of my former road managers and true friends .
Terrell Lee `~ road manager extraordinaire
The blog's subject matter revolved around a gig we had worked together awhile back ... which stood out from most of the rest ... in that the opening act was just not your run of the mill dog and pony show. The old "never have a kids act for an opener" line comes to my mind.
I thought it might be an interesting touch to combine our blogs and give a lil' third person view of what it's like on the road at times.
Take it away Terrel Lee !!!
"The Night of 1000 Drums, On Fire !"
originally posted on Terrel Lee's myspace
I know that my words can only dull the reality of last evening's show in Miami
.
The

fundraiser for The Boys and Girls Club must have went in excess of the 2 million projected.
Things started as many other events we have all attended, a great five piece band playing music to compliment the theme of the event, tonight "The Islands" during dinner at a soft volume, so quietly you could actually hear forks and knifes on plates and toasts being made, wine glasses clinking, and the band played on "Beach Music" and "Disco"
Then the parfait course was served as the ceremonies and acknowledgments are made.
The Stage is lighted and The Master of Ceremonies introduces …
"The Coral Reef Review", Four gentlemen abruptly take the stage, they are almost Quartet style with a twist of Islands Rap, they performed about 30 minutes and make a quiet exit.
Then Silence !
The Stage is dimly lighted, a very large tribal looking man in a loincloth drags a Zebra skin Drum behind him, across the stage, and he sits Indian style center stage.
Solo, with only his drum he pounds out this African beat,
Ba Boom Ba Ba Ba Ba, Ba Boom Ba Ba Ba Ba

... then

from the wings of the stage dances in an authentic Island Beauty with a tray of Fire held high over her head, her body shook and convulsed with centuries of tradition, She performed ritualistic fire dances, juggling and fire swallowing.
("Okay hold it" ... Ringo here again. "Are ya starting ta get the drift that this is alittle more than a four piece quartet named 3 Jacks and a Jill ?"
I gotta follow this !!!
This girl was dancin' and swallowin' FIRE !!! Now I grew up in the strip clubs of Memphis but I gotta say ... I ain't never ... never seen anything has animalistic and primitive as this ... HOLY BEJESUS !!!
I tried to steal her lighter
The old take the fire ... take the fire ... ofcourse I gave it back although I am still prolly hexed for life !
But sorry Terrell your story )
The Drum stops, the chief and the Island Beauty are gone.
All of a sudden this infectious rhythm, a deep soul shaking bone rattling rhythm.
Attention is shifted as this ear ringing, deafening sound startles the room ! From every entrance Fifty stilt walkers, Twelve feet tall enter from all sides and gather around the dance floor, their dance number was as choreographed as well as any of 1980 Pop Video.
In perfect synchronistic movement this stilted and brightly dressed dance troop took center of attention, their beat, loud canned music with horns and that Tribal Island beat.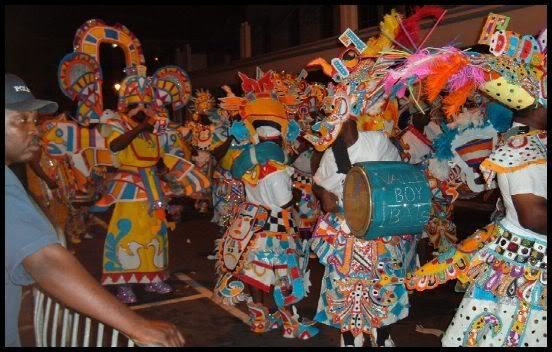 Unnoticed about 200 drummers, dancers and horn players sweep through, now the Chief and his firedancer are encircled and the whole thing is like a ceremony of ritualistic rite.
This is known around the Bahamas as Junkanoo.
I would describe it as Carnival on Viagra.
At this moment, the stage manager turns to me and said
" ShowTime " YOUR ON !
(I distinctivly remember that and thinkin'
What the F*%K are we gonna do ???)
Thinking to myself, we have to follow that ???
The Memphis Wild Man, pulled together his bandmates centerstage and joined the junkanoo. These four white guys played with as much soul as was being exuded from the hundreds of roaming dancers and musicians, who are now exiting the arena floor, leaving only the frenzied dancing guests, the music never stopped.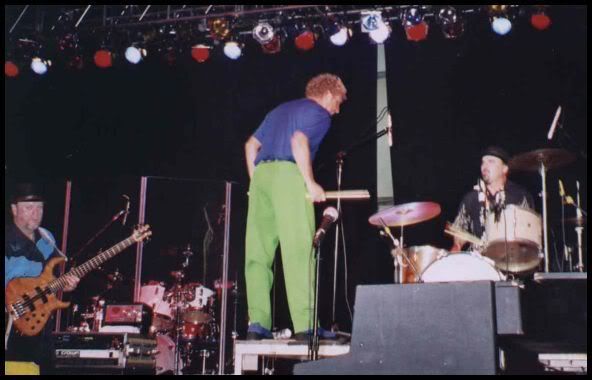 (The Memphis Wildman ~ Jason D Williams with yours truely on drums and the always able Micheal Harber on the bass)
There really wasn't anything else to do
(How can you overpower 200 hundred drummers ? Join 'em man
Join and jam ... cuz that's what the music is really about any way
Jammin' together and making that ass shake . I just thank God
I cut my teeth on the great drummer GENE KRUPA, whose jungle
beats still take me to another level of being and on that fine Miami
night ... saved my ass . Not your typical night out )
Visit the main SITE ~ rjjukes.com