Posted by rj jukes on Friday, October 15, 2010
Go West Youngman
I dug out a copy of "Let It Bleed" and threw it on this morning just to see if ole Mick can truely stand the test of time. Of course he did, but not before striking a chord within me when the second cut ... "Love in Vain" began.
My friend and one time Rock City short lived producer Paul Rothchild, once told me over a root beer party in the Hollyweird Hills (his pad on Lookout Mountain road).

"A good song takes the listener back in another place in time. There that song becomes as one my a person's memories. "
Damn Paul I knew you were right !

After hearing his production work on Janis Joplin and the Doors, I seldom question the statements he made during our short time working together. I wish he could have had a shot at producing the Angels.
But Tommy Z at Geffen would have no part of it.
Ole Paul stuck by us has a friend though ... even giving me advice on what I should do long after the record company had dropped us. "Go to the clinic. Twenty one days to clean up or I would be no good to nobody." So I did and even followed his words and got the hell outta LA and back to Memphis.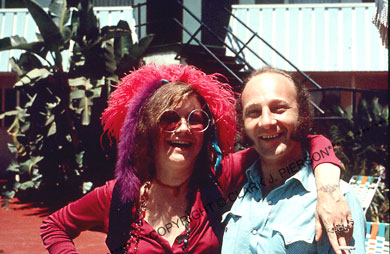 A young Rothchild and that lil blues beltin' gal from Texas
But ... back to the story at hand.
I was in Galveston, Texas in 1984 working a five nighter a
week at the Galvez hotel. Top forty band. I knew one thing about top 40 cover bands at the time and that was the fact that I definitely needed out of this.

I mean the money was good and the work steady, with a place to stay and free meals, but there was no way that I was gonna stay on this scene.
I had already begun answering local rag ads in search of an original project and met up with Mitch ... who's
Texas ad I answered and got my dose of Motley Crue 101 in between passing the pipe.
I knew after a little answer and callin' that I needed to go somewhere where the musicians were and Galveston was not the place. But I was like 19 and already a long way away from home. Going to a major melting pot ... like Los Angeles seemed about has far out as going to the dark side of the moon.
The night before I had been at a party at Aunt Lucy's house. Not my real Aunt (she was my girl's auntie). Lucy was an old time rocker compared to my unseasoned ass. Already far down the opium trail she passed along a few of the good things you find along the side of that road.
Like the Rolling Stones ... and their heroin spokesman, Keef Riffhard.
Lucy was a big boast to my early musical career. Later
she would move out to Los Angeles and hang with us at
the Scream Club, a few months before RCA signed with
Geffen ... at gigs with Janes Addiction and the Red
Hot Chili Peppers.
But this night in Galveston, Lucy had just presented me with a hugh mural of the Rolling Stone's lick. Directly off her wall in a moment of impulse. I gladly excepted it and
promptly took down the designer Hotel Galvez picture
of the seashore (in my hotel room) and pinned my new wall hanging up. After all I was gonna play the place for three more weeks just as well make it home.
Next day I went out for a walk down the seawall to do a
little window shopping and ended up in a record store
buying the aforementioned Stones classic ... "Let it Bleed".

I walked out of the store to a light drizzle coming in from
the waters of the gulf. The rain beginning, I wasted little time popping the cassette into my Sony Walkman (dated huh ?). Tunes in ears, I put my hat to the wind and headed back to the Galvez to the opening notes of "Love in Vain".
The rain increased until I myself found I needed shelter
which I quickly took under a welcome awning down around 9th street. These showers are quite common in Galveston and I knew the routine. It would come in quickly and downpour, then be done in thirty minutes.
A nice purification of things.
It was there under that seawall canopy that I heard the song "Love in Vain" for the first time. I listened intently to the words ... "the blue light was my baby and the red light was my mind".
I could relate to that as my current relationship wasn't
treating me all that well.
"Well I followed her to the station a suitcase in my hand"
This moment is etched in my mind, just as Paul would tell
me a song may do years later. Listening to the tune at that and this moment, I still remember this like it happened only yesterday.
Long before I would travel down to the heated deltas of
Mississippi searching out the three graves of Mr. Robert
(Noah) Johnson ... the song's tunesmith.
"When all true loves in Vain"
Long before I would watch the movie Crossroads
"When the train left the station"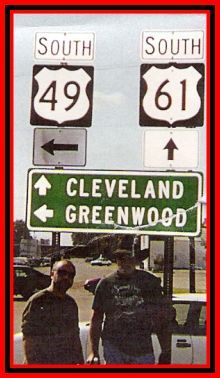 One of my many trips to the Mississippi Delta.
This one with a shaved head and my buddy Dave (former Johnny Cash bodyguard) to visit the
three graves of Robert Johnson. "Standin' at the crossroads ... tryin' to flag a ride"
Yes the song struck a chord deep in my young soul as I
cowered from the windy rainstorm under that 9th street
Galveston doorway.
The rain shower left as fast as it had come up and I proceeded to walk the twenty blocks back to the Galvez. All the while rewinding the walkman to hear the song one ... more time.
It was near five o clock when I reached my destination and I decided to down a cool, happy hour Guinness while checking the drum kit out for the night to come. This band certainly didn't play anything as cool as I was listening to. Yeah it was a job, but it was a one way street. Everybody in the group was well into their late 30s (but yours truly) and they were quite content.
I was young and restless and with nothing on the immediate menu a change seemed very tasty. That night drug by as cover band gigs can sometimes tend to do.

Afterward, I was invited to an after hours party at a little
tavern up the street. The owner got drunk and allowed
free range of the place. I was zeroing in on making the
eight ball when I caught a glimpse of a band on the bar
room television.
They flashed across the MTV with a visual intensity I
had not previously seen. I missed the eight and walked
over to the bar to finish my beer and watch the remainder
of the video. There ws that howling blues guitar riffing again ... only with a modern edge.

Who were these guys ?

I recognized the old Creedence song but these cats had
put a nice switch up on it. They roared across the screen
like a hundred Hells Angels blazing down a hot California
highway . "... like Genghis Khan on an iron horse, flat out
through the eye of a beer can and up your daughter's leg
with no quarter asked and none given" (HST)
I waited with baited breath and the title caption finally
flashed across the tube as the song faded out ... around
the bend like a rising wind.
The band was Hanoi Rocks.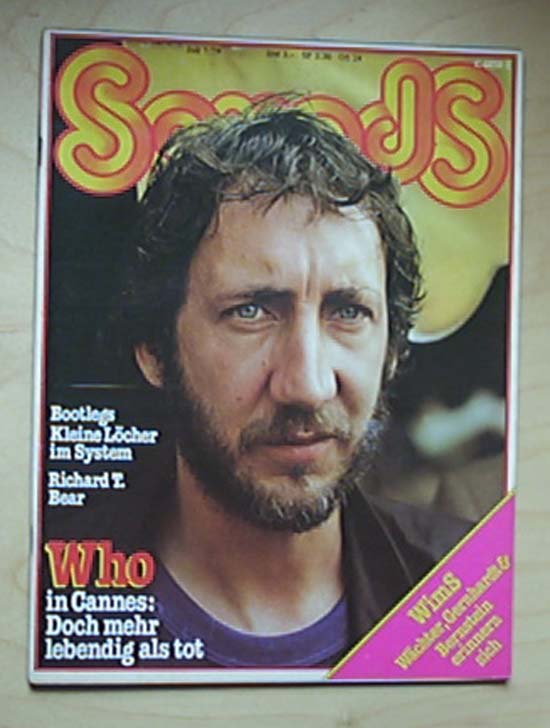 Where it all started too get damn serious for me
A month later ... I had given my band two weeks notice
and packed everything I could into my girlfriend's tiny
Chevy Chevette. The rest I had loaded into the shells of
the drums themselves, replaced the drum heads, then
packed them in their cases and strapped them to the top
the car with the aid of a K MART instant car rack.
Looking every bit the Beverly Hillbillys, we headed out
over the Galveston bay bridge and across the desert in
search of some glammed out rockers, who played with
the intensity I had witnessed in the video.
A month before I had seen the Damned play Dallas'
Ground Zero club. I had in reality began to make plans
for something new at that point. Hanoi Rocks had just
been the icing on the cake. The glitter on the glam trail.
I had recently seen the DAMNED play in Dallas. Speakers rocked, blood spilled, stage diving became the norm and the band helped Rat Scabies clear his kit by falling into it at the end of the set. I was hooked. It only took about two months for the addiction to set in
Three days and two new tires later I reached the out skirts of Los Angeles. Then just when I thought I was there ... another two hours until I got on the Hollywood freeway.
I exited on the only street I recognized. Sunset Boulevard.
Drove down to the first cheap motel and bought a room.
I thought of Morrison and began to wonder.
Ok ... You are here in LA now what ya gonna do boy ?
What ya gonna do ?
I walked to the corner store and bought two bottles wine to celebrate the successful trip, and a Music Connection
magazine. Pausing at the door and I also grabbed a free
LA Weekly rag.
Later my girl and I got out and walked the stars on Hollywood Boulevard looking every bit the Texas tourist. I had to do something to seperate myself from the that herd. I found it in a shoe store next to Fredrick's of Hollywood and maxed out my Mastercard's last $65.00 on a pair of Giorgio Bruntini leopard print shoes.
Now I was truely gettin' somewhere, I thought and
There were musicains every where.
Every street, apartment, and back alley resounded with
the echo of an electric guitar. It didn't take me long to
find a band in the Prodigal Sons. A tight no nonsense
unit put together by Los Angeles native Jimmy Bratt.
At that first band practice I met a young man from Indiana whom I would later share record labels with. But that was a ways down the road. Tonight he was going to sing background on a few tunes with the band in order to
sit in at our next gig at Raji's.
Now this place was pure. Unwatered down Rock N Roll !
The Prodigal Sons
A fitting name for myself and my recent three day
pilgrimage. I felt I had come home to a place I have
never even been before.
Kindered Spirits
Our first show was at Ragi's. A well known spot on the
Boulevard where I would later hole-up (1990) in a hotel
two doors down with my new found habits. But all that would come later.
At this time I was very innocent of the ways of the rock
World.
The only Jones I had at this time was for a fresh can of
Aqua net hairspray and a set of drums on a rocking stage
that smelled of sweat from the band who had just walked
off.

That first night with the Prodigal Sons I found it.
Somewhere in the middle of the band's set I knew I
had found it.

Soon the Rock City Angels would begin using the same
practice room as the Prodigal Sons ... Nicky Beats Love
Palace ... along with LA GUNS, The HANGMEN, The
SEA HAGS and GUNS n ROSES. BTW: I hear ole NICKY BEAT is out on the road with LA GUNS again kickin' ass and takin' names ... check him out !!!