Posted by rj jukes on Thursday, November 11, 2010
Veterans day


Please take the time out to thank a local veteran today

MY FATHER

The first round of fire echoed across the mid-western farmland with much more intensity than I had expected. Cutting through the roaring winds and into my head with a finality I so badly needed ... but again hadn't expected ... causing many of my family to wince even stronger than the day's wailing, winter wind. The shots I heard reflected a great man's service to his country ... a service that would have made any Arlington morning smile with pride.
Orders were shouted above said howling winds, as the local color guardsman turned and fired another volley into the snow covered skies. This second round of gun fire seemed even louder than the first, backed by the calming, final song of one lone horn . I had never heard "Taps" played so clearly has I did on this snow covered plain. I would have thought it canned, if I hadn't seen the military musician with horn to lips myself.
They were just words ... but they carried a powerful message.
"This flag is presented on behalf of a grateful nation as an expression of appreciation for the honorable and faithful service rendered by your loved one ."
I proudly accepted the offering, as easily as I allowed the commanding officer to drop the still warm shell casings into my my freezing hands ... and as the metal met my open palm ... I knew.
My father was gone.
The past few days seemed a blur .
The man who single handedly introduced me to the music which would guide the course of my life, was gone. No more would we hear the strains of the likes of Johnny Cash and nod together silently, in agreement that there would never be another like him.
See has a small boy ... I would often sit and listen to my Dad run through his his vast music collection, be it vinyl or reel to reel tape. Soaking in the sounds which I still resound today with each bass bomb and snare snap I drop.
Yes.
The man who patiently taught me how to apply low english to the cue ball ... in order to keep it from following the eight into the corner pocket ... was gone. From this day forward I would have to call my own shots .
The man who so lovingly took in his Hollywood heroin ravaged son, after years of drug induced non communication ... the prodigal son come home ... to slowly reclaim my drug torn soul ... on my own terms ... through the rays of the summer sun pasture of his peaceful farm ... was gone .
The man who had taught me to travel in style, yet when I could ... stop and smell the roses ... has he took myself and family along every chance he could through his worldy travels ... through military bases from Spain to Okinawa ... Wright-Patterson to his final retirement at Travis Air Force base in California ... was gone.
I should note that, like many soldiers of his generation, my father did not talk about his experiences during the war ... reluctant to call attention to himself.
Attention
My mind raced through these childhood memories of my wonderful father, as I watched his fellow soldiers stand at attention at his grave until the flag folding cermony was complete . The flag then passed to the NCOIC, the OIC, and finally myself, as the rifle team began leaving the gravesite, with one member remaining. One soldier on one vigil. His mission ... to watch over the body until it is interred into the ground.
Even in his final days ... confined to a hospital bed ... my father continued teaching me how to accept death with elegance and grace with his ever present sarcasm using lines like, "son you have to get me outta here ... I am drawing to much attention"
I can only hope that I can be has steadfast in my ways, to do the same for my young son, who only seems to understand that Grandpa has gone to heaven .
This mornng I am back home in the hills my Daddy so loved through the last thirty years of his life and I must say ... Dad without you nothing will ever be the same.
I so miss you .
I so wish as I look out this cold morn, into the early gray skies, I could see you driving up to my house one more time ... unexpected ... to see what that "long haired son of his is up to." Often to find me nursing my wounds from last night's show and giving me that stern, yet gentle look. His own personal brand of quiet, unspoken "boy you better shape up" reprimandation .
It is time for the third round of shots Dad ... the one in which I must learn to carry on without you to learn my lessons alone ... care for my mother and your loving wife of sixty years and try the best I can to ... to the best the man I can ever hope to be ... in a word.
You.
I'll do my best and although I can't ever recall you pulling a copy from your vast music collection ... the one which taught me so well the basics of my craft in this life .
"I'll see you on the Darkside of the Moon"
I miss you dearly.
Kenneth Robert Larson
May 22, 1926 - February 26, 2007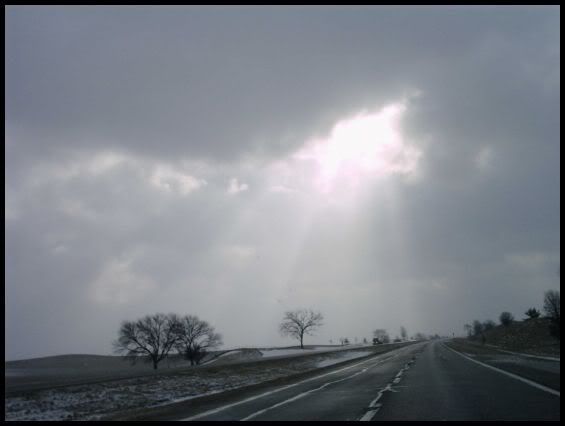 Pic taken in Spring Valley, Ill March 2 - O7:00 hours
this was originally posted on Myspace ... to see the original post and comments following got to:
http://blogs.myspace.com/index.cfm?fuseaction=blog.view&friendId=48199890&blogId=236770761
Tags:
father veterans day military