The further adventures of ELAM McKNIGHT & BOB BOGDAL has they travel once again to the Clarksdale Crossroads with a motley lot in tow !

This year we will be making a mini documentary so check back as the whole things comes down !!!
This years festival is dedicated to the great

HONEYBOY DAVID EDWARDS
Born: June 28, 1915
Shaw, Mississippi

Died: August 29, 2011 (aged 96)
Chicago, Illinois

"On Saturday, somebody like me or Robert Johnson would go into one of these little towns, play for nickels and dimes. And sometimes, you know, you could be playin' and have such a big crowd that it would block the whole street. Then the police would come around, and then I'd go to another town and where I could play at. But most of the time, they would let you play. Then sometimes the man who owned a country store would give us something like a couple of dollars to play on a Saturday afternoon. We could hitchhike, transfer from truck to truck, or if we couldn't catch one of them, we'd go to the train yard, 'cause the railroad was all through that part of the country then...we might hop a freight, go to St. Louis or Chicago. Or we might hear about where a job was paying off - a highway crew, a railroad job, a levee camp there along the river, or some place in the country where a lot of people were workin' on a farm. You could go there and play and everybody would hand you some money. I didn't have a special place then. Anywhere was home. Where I do good, I stay. When it gets bad and dull, I'm gone." ~ HONEYBOY DAVID EDWARDS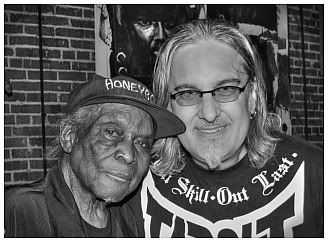 BOB HARPO BOGDAL with the late Great Honeyboy - THE 2010 Festival
2012 -- "HONEYBOY EDWARDS MEMORIAL EDITION" OF JUKE JOINT FESTIVAL!
Our 9th annual, 2012 edition of Juke Joint Festival is also dedicated to all the other late, great Clarksdale blues performers / supporters who have passed away during the past year. Delta blues legend David "Honeyboy" Edwards was a regular performer at Juke Joint Festival -- always appearing three times during the weekend (Delta Blues Museum, Juke Joint Festival and Cat Head blues store). He passed away on August 29, 2011 at 96 years old. His may be gone, but his contributions to the music world and our down-home festival will never be forgotten. R.I.P.
This page is dedicated to the Old Delta Bluesmen , as well as around the mis- adventures of some young bluesman journeying down to the crossroads, to play a punk rock blues show at the World Famous JUKE JOINT FESTIVAL in CLARKSDALE, MS. The page will be updated and new info added as it develops. Stay tuned for more.

In addition this section also includes several great documentaries including "DELTA RISING: A BLUES DOCUMENTARY", "In Search of Robert Johnson", and the Martin Scorses' "NOTHING BUT THE BLUES"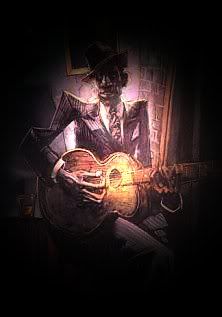 Special interest is given to legendary ROBERT JOHNSON who's music was so instrumental in the development of my musical career.
The 2010 Festival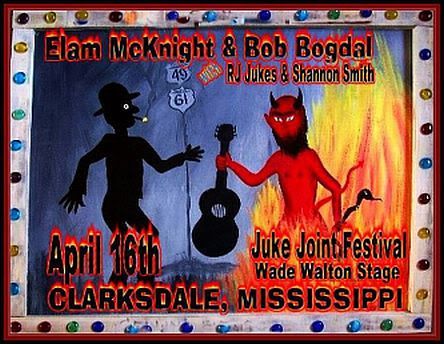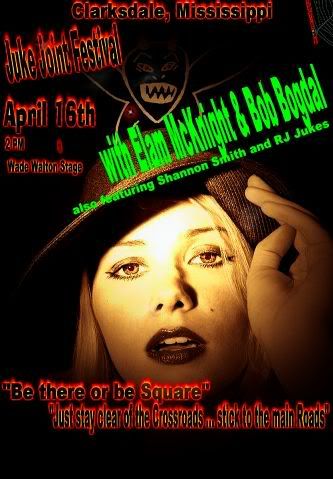 FEAR & LOATHING IN CLARKSDALE

I put this video together upon returning from the Festival. Contains lil snippets of the trip as well as some of the performance. Hope ya dig it .

ABOUT THE FEST !
What is the JUKE JOINT FESTIVAL?

It's a positive event for everyone in Clarksdale. It's good for families, businesses, musicians and tourists alike. The festival itself combines an international "blues festival" with a community-minded "small-town fair," creating a strong and memorable event like no other in the universe. It's organized by the Clarksdale Downtown Development Association (CDDA) and staffed by enthusiastic volunteers. This "half small-town fair, half blues festival" does more than simply entertain attendees -- though it definitely does that, too! It aims to educate and enlighten native Deltans and blues tourists alike through a series of performances, exhibits, and presentations involving music, art, storytelling, film, and children's events. The event mixes visitors with locals and showcases the economic power of cultural tourism, turning average Deltans into ambassadors for the region.
2011 -- "ROBERT JOHNSON CENTENNIAL EDITION" OF JUKE JOINT FESTIVAL!

Our 8th annual, 2011 edition of Juke Joint Festival is also dedicated to these late, great Clarksdale blues performers / supporters who have passed away during the past year: Foster "Mr. Tater" Wiley (world-famous street musician), Billy Hardin (Anniebelle's juke owner) and Big Jack Johnson (legendary "Oil Man").
The festival also celebrates the 100th birthday of blues icon Robert Johnson with "100 ACTS FOR 100 YEARS!" ... plus a Robert Johnson Centennial Stage at the Delta Blues Museum and special live blues music at the famed "Crossroads Marker" at former intersection of Hwy 61 & 49.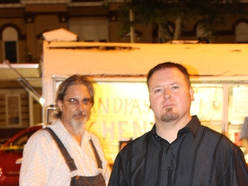 About ELAM MCKNIGHT & BOB BOGDAL
They've made quite a name for themselves as individual musicians, but now Elam McKnight and Bob Bogdal have teamed up to release Zombie Nation, a debut album that melds the rural Mississippi blues of the Delta with the hard-charging electric style of the Hill Country. "They say the first step in a journey is the most important, and that's the approach we're taking with this album," says McKnight. "As a songwriter, you are constantly creating material. I have all kinds of songs that, before, I might not have felt they fit the direction I was going. But now, their time has come to be heard."
Look fer yerself ... warning: these some bad boys
http://www.bigblackhand.com/home.html
I am proud to be backing these to extraordinary arts at this year's fest ... with my long tyme friend SHANNON SMITH aka THE MISSISSIPPI KID on bass guitar !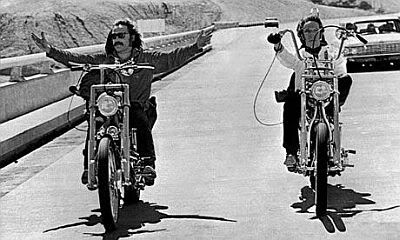 Pix from the trip to Clarksdale
Leaving the farm ... setting a course for the Sun

First stop - Robinsonville, Mississippi ... the Abbay & Leatherman, one of the oldest and largest cotton plantations in the Delta, is known to music enthusiasts worldwide as the boyhood home of blues icon Robert Johnson (c. 1912-1938). Johnson lived here with his family in a tenant shack by the levee during the 1920s. This year the Juke Joint festival honors the legendary bluesman

The Ringo Roadmobile at the Abbey - Leatherman Plantation

Slide show from the Clarksdale Festival

Finding the HUNTER S THOMPSON SHARK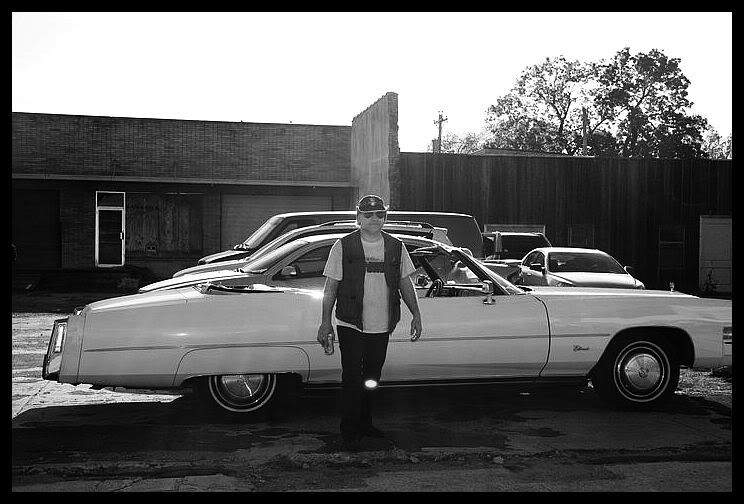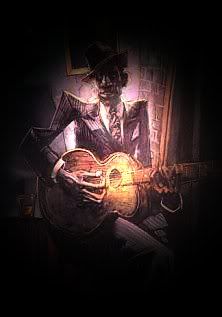 For sometime now I have been working on a book about some of my varied travels on the road. Here is an excerpt from that book which deals directly with ROBERT JOHNSON.
Galveston - 1982


The rain pounded battered against the shabby hotel canopy where I'd stopped to wait out the afternoon's latest downpour. Ever since I'd blown into Galveston , I had grown accustomed to these short, intense storms coming raging in from the Gulf of Mexico . My band was booked at the Hotel Galvez , but the place had suffered so much damage from hurricane Alicia that, even though the hotel was now closed for revamping, the insurance company had deemed to pay my band's fee for the two month engagement and provide us with excellent rooms. All that, and we didn't have to play a note !
After a few days of nothing to do but get paid to hang around a beautiful deserted 1800's hotel, I began to get restless. Perhaps an idle mind truly is the devil's workshop? Who knows. But there I was in the summer of 1983, roaming through what was left of Galveston, Texas while helping myself to healthy portions of Jack Daniels from the Galvez barroom, a creepy isolated spot straight out of "The Shining" which—although closed for repairs—still offered up countless unceremonial libations to the everlasting antique flask I kept stowed in my backpack.
Once I secured a few drinks from the bar, I'd abandon my third-floor room for a rendezvous with the penthouse at the top of the hotel. The door was unlocked and the place was sweet. My attention was drawn to the pool table. I had taken to spending my nights playing solitaire on this table, which in its earlier days had entertained such guests as; Jackie Gleason, Franklin D. Roosevelt, Duke Ellington, and even the "Rat Pack." But now, the table surrendered its pillaged, plush, green felt to an insurance riding musician's ass as I went through the practice skills my pool shark father had taught me.
"Put all the balls on the table and attempt to run them ... miss three times and ya gotta put them up there again. Rinse and repeat. Work your "leave" strategy, always be thinking and leave yourself a shot, or in the case of my imaginary opponent, no shot."
Well that was all fun and games for a bit, but after nearly a week, even such choice free accommodations had grown stale and damp. I began to roam the deserted, dark streets of Galveston and mix with whatever locals had either been brave enough to ride out the storm or were just now returning to see what was left of their homes.
During one of these outings, I took up with a local girl who shared my interest in shooting pool and other assorted activities in my "rat pack" squatters suite. In fact, when the rain had caught me this afternoon, I had been on my way back from her house ... where she had not answered the door. So I had been walking the 20 blocks down the seawall to my room, when the tropical downpour cornered me. Yes, I had been to her door (unannounced) ... she had not answered. My young 20-something brain had yet to gather she just hadn't answered the door ... after all I had shown up without any forewarning. Oh what a young man needs to learn about women
So there I was, waiting out the rain under the canvas of a sleazy Galveston seawall hotel canopy—or what was left of it—with my bootlegged flask, listening to the Rolling Stones' "Let It Bleed" on my new Sony Walkman. "Love in vain" rolled into my headset. I listened intently while the rain pounded harder against my leaky shelter.
"And I followed her to the station
with a suitcase in my hand
And I followed her to the station
with a suitcase in my hand
Well, it's hard to tell, it's hard to tell
when all your love's in vain
All my love's in vain"
The words vibrated through my mind ... echoing a misery I could temporarily relate to. I took a pull from the highjacked hooch, looked out across the Gulf of Mexico and replayed the song. Dug into my backpack for the cassette's liner notes. The song I had just heard had struck a deep, dark chord in me. Written by Robert Johnson. Hmmm ... new to my young ass ... just fresh out of classical music training school .
The rain intensified. I hit the bottle again and slumped down to wait it out. I rewound the tape and hit the play button again.
The whiskey felt warm ... the song felt cold.
I didn't know much about women, whiskey, or the blues ... but I knew one damn thing. I had to know more about this Robert Johnson .
An interesting video of an event a few years back where old film footage came forth which alledgely showed ROBERT JOHNSON playing in front of a theater in Mississippi. Although later it was surmised that the player in the film is NOT Robert I think the film is quite interesting for the historica value and the fact that we are seeing a Mississippi delta town in 1942. The true identity of the musician in the film has never been found. See the lil detail at 3:45 !

Sit back and grab ya a cool one and dig these documentaries.

Lunch and a cool one at my favorite Delta pizza shop in Robinsonville, Mississippi. I know pizza and all the soul food, but I still got a lil punk in my soul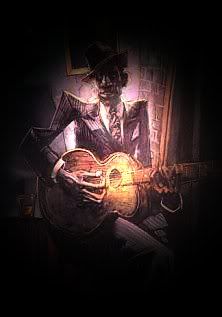 The Search for Robert Johnson is a 1991 UK television documentary film about the legendary Delta blues musician Robert Johnson, hosted by John Hammond, and produced and directed by Chris Hunt. In it, Hammond travels through the American Deep South to pursue topics such as Johnson's birth date, place and parents, his early musical development, performances and travels, romances, his mythic "pact with the devil," his untimely murder in his late twenties, the discovery of possible offspring, and the uncertainty over where Johnson is buried. Throughout, Johnson's music is both foreground and background, from recordings of Johnson and as performed on camera by Hammond, David Honeyboy Edwards, and Johnny Shines.
A very good bio-doc (from 1992) effort to untangle the life and myths of blues legend Robert Johnson. This is a challenging task, as not a lot is known about Johnson except through his music and through lore. There is speculation at times, but this is inevitable. It still uncovers a lot, from his rejection by his family (blues was the work of the devil) to the darkness of his lyrics and the mysterious circumstances surrounding his death.
Johnson was never interviewed, and his performance was never captured on film. Beside his music, all that are left are oral accounts, peppered by exaggeration and myth. An accurate, objective bio may be impossible to achieve. But The Search for Robert Johnson comes about as close as might be expected, and has great entertainment value as well.
Elam McKnight side kick BOB BOGDAL with the legendary DAVID HONEYBOY EDWARDS at the Juke Joint Festival 2001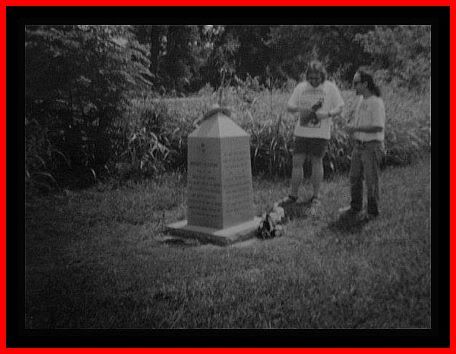 Myself and my good friend Ron visiting the Robert Johnson Memorial in Etta Bena, Mississippi - 2006
Martin Scorses'

"NOTHING BUT THE BLUES"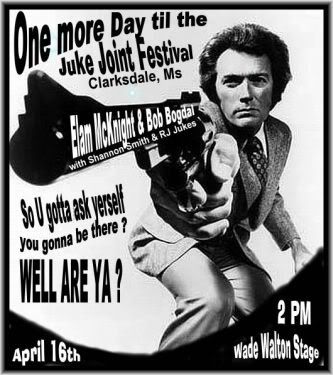 A few past Elam McKnight Scenes

Blues stuff for sale in the store
Item #667 1 HIGH JOHN THE CONQUEROR ROOT
$ 7.77 USD
1 HIGH JOHN THE CONQUEROR ROOT
SHIPPING FREE in The United States
John the Conqueror, also known as High John the Conqueror, John de Conquer, and many other folk variants, is a folk hero from African-American folklore. He is associated with a certain root, the John the Conquer root, or John the Conqueroo, to which magical powers are ascribed in American folklore, especially among the hoodoo tradition of folk magic. It's also known, that the seeds of plants belonging to the genus impomea contain a LSD-like psychedelic substance (Ergine).

The root and its magical uses are mentioned in a number of blues lyrics. Regardless of which name is used, in these contexts "conqueror" is pronounced "conker" or sometimes "conqueroo".
The magic of John the Conqueroo became known beyond the circle of African American hoodoo practitioners by being mentioned in a number of well known blues lyrics.



John the Conqueror was reputedly a real person – an African prince who was sold as a slave in the USA. Although enslaved, his spirit was never broken.

His name survived into folklore and he became a trickster figure because he always outwitted his masters. The "Br'er Rabbit" character from the Uncle Remus stories by Joel Chandler Harris was said to be based on John the Conqueror.
One of the most famous – and most powerful – roots in voodoo conjure is John the Conqueror root. It was mentioned in many famous blues songs by artists like Muddy Waters and Howlin' Wolf, all of whom were no strangers to "conjure," as folk magic was often called in the American South during the early decades or the twentieth century and before.

"My pistol may snap, my mojo is frail
But I rub my root, my luck will never fail
When I rub my root, my John the Conquer root
Aww, you know there ain't nothin' she can do, Lord,
I rub my John the Conquer root"

In 1954, Muddy Waters recorded a very popular version of Willie Dixon's "I'm Your Hoochie Coochie Man" song with an additional verse mentioning John the Conquer root:

"I got a black cat bone, I got a mojo too,
I got a John the Conquer root, I'm gonna mess with you,
I'm gonna make you girls lead me by my hand,
Then the world will know the hoochie coochie man."

In 1955, Bo Diddley wrote and released "I'm A Man" with the following verse:

"I goin' back down,
To Kansas to
Bring back the second cousin,
Little John the conqueroo"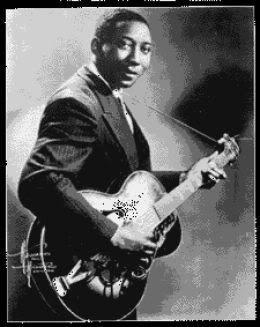 E-MAIL FOR ADDITIONAL DETAILS
Nos4ra267@yahoo.com
Sign the guest book to be eligible for discounts and free giveaways !
Ok here's where ya can leave your mark folks.

If your here checking out some of the other goodies on this site ... vids, music, games and zaniness let me know what ya think. Those who wish ta link up ... fire away !