Most Items will ship within 24 Hours if stated in the listing with this image

... others maybe at the store in Memphis or different locations and may take longer (no more than 10 days)

No items will be shipped until the buyer replies with a confirmation of payment and address for the item. The buyer will receive a confirmation email within a few hours of purchase. This is to protect the buyer from fraudulent purchases as well as items being sent to an incorrect address .
YOU WILL RECEIVE AN EMAIL THE DAY YOUR SHIPMENT GOES OUT !
I will specific if this is the case at the time you place your order. Please inquire if you need something extra fast and I will work with you any way I can. Item is packed very securely and marked appropriately (fragile etc..).

All items with this banner will Ship within 24 HOURS of payment cleared !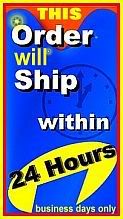 I generally use PAYPAL for my shipping labels and most items are shipped PRIORITY MAIL or FIRST CLASS.

If you wish a specific type of shipping service please notify me and I will do my best to accommodate you !
INTERNATIONAL BUYERS

I will ship worldwide just has I did for many years on EBAY ... but I do ask you please contact me before making your actual purchase
so we can review the shipping costs to your country.

Many within 24 hours of payment. Those items are marked with the banner below !

I except Paypal, Money Orders, E Checks, some Personal Checks and so forth
I will be glad to provide more details, answer any questions or take additional pictures on any item

Any questions call CALL 870 892 2521
or message me at nos4ra267@yahoo.com
Sign the guest book to be eligible for discounts and free giveaways !