Got one of my long tyme "Pet Projects" rollin' on the river this summer ... the beginning of my sometymes guided often misguided Cabin, Canoe, and Jeep trips !!!
This trips cover a wide range of waterin' and campin' holes ... from nice wholesome family getaways - try the tubin trip ... weekend retreats in isloated spots like the MOUNTAIN MAN MOON MARTIN cabin - where you won't see anyone for days my friends expect yourselves ... to the ever popular DOUBLEWIDE GONZO CANOE SURIVAL TRIPS !
For a few years now friends have been leaving the big city stress for a few daze ta come up here to the Ozarks hang out at the Owlfarm South.
Well this year we are allowing a few limited tours of the area. All ya gotta do is get ta HARDY and we'll take it from there ... yes ya gotta drive. We ain't got no airport round these parts ... although my neighbor is building a dirt runway ... don't ask why.
You can mix and match your trip package to whatever "floats your boat" but again the most popular trip is the crazy ass ...
DOUBLEWIDE GONZO CANOE SURIVAL TRIP !!!
WHAT would TED NUGENT DO ???
For a LIMITED tyme get a FREE KILLER KAMO COWBOY HAT FREE WITH FULL PACKAGE !!!
... take one of our DOUBLEWIDE GONZO CANOE SURIVAL TRIPS ... live ta stay the night and get this
cool ass hat for Free !!!
(or you can buy one in the OUTPOST STORE)
Trips start after a meet up in the Ozark Mountains at the newly opened RIVER WILDERNESS SPORTS store , where you can actually see (mounted for your safety) the 400 LB Mountain Lion
featured in the MOUNTAIN MAN MOON MARTIN series and we believe the very beast which brought Mountain Man Martin to his demise !!!

NOTE: If you are in really fast water and you capsize. You are going to be moving quickly down river.
Keep your feet out in front of you, do not I repeat do not let your body get switched around so that your head is going down river first. If you do get switched around backwards and your head is going down the river first, get back to the position of your feet in front of your body as fast as you can and try to watch where you are headed.
SPRING RIVER - cold whitewater for some major fun. This is a ride that challenges even the most experienced canoeist with thirty sets of rapids within a 12 mile trip. Many of the rapids are class II and class III ledge-type whitewater, with a couple of three foot falls and some adrenaline- pumping "S" curves thrown in. Come learn what most of Northeast Arkansas already knows. A Spring River Canoe trip is one of the most exhilarating canoe floats in the Ozarks! Spring River is famous for its rainbow trout fishing.
NOW FOR YOU TENDERFOOTS and FAMILY ORIENTED TYPES ... we have the Getaway trip where u are not gonna see any folks ... also for those of you who are over the large crowds and party at SPRING RIVER !!!
This has about is as near to true tranquility as u may ever get ! This trip features a float down the much less populated SOUTHFORK RIVER and a 2 night stay in our secluded cabin at an "undisclosed location".
Wilderness serenity are the key words for this little cabin in the middle of nowhere. Great blue herons, wood ducks, water turtles, deer, wild turkeys, beavers, river otters and the occasional, majestic bald eagle can be viewed on these on the river adjoining this secluded getaway !!! Perfect for the fisherman the river is home to largemouth, Kentucky and rock bass, bream, catfish and sunfish.

This little homestead is not available through any of the other tourist traps along the river... and u are guaranteed to be the only one using the area !!!

MOUNTAIN MAN MOON MARTIN CABIN
This little homestead is not available through any of the other tourist traps along the river and u are guaranteed to be the only one using the area !!!

This ultra secluded getaway is far from the tourists and here you will find your own patch of river paradise ... no one but your party will be able to access this area while you kick back and stay awhile ! Those who have been down SPRING RIVER recently know how valuable such an isolated spot can be !

This cool little cabin sleeps four in air- conditioned comfort with all the good things like showers and such. Even a TV for those of you who just gotta tune in the game ... although I guarantee much reception out here ! DVD player is also provided ... but really who needs this stuff !


You can sit around on the front porch, fish, swim, and just
plain be lazy here and no one will see or care !!!

ABOUT THE FLOAT TRIP on the scenic SOUTHFORK RIVER ...
Whitewater Class 1 & 2 Trips
Experience Preferred: Beginner & Up.
Rapids are mostly Class I or II shoal-type whitewater, with a few class II ledge rapids thrown in to make it interesting. Several gravel bars and islands make for good rest stops or swimming spots along the way. The South Fork of the Spring is also one of the top ten streams in the State of Arkansas for small-mouth bass fishing and is designated as an Ozark Quality Stream by the Arkansas Game and Fish Commission. Other fish that can be caught include largemouth, Kentucky and rock bass, bream, catfish and sunfish.

You do not have to deal with the chaos that you do on other local rivers.

So there ya have it ... hope ta see ya up here in the mountains this summer. There are a few other trip options available - tubbin, camping with your own tent equipment, and midnight catfishin' ... message me for details if you wanna know more about any of that bidness.

Prices on these trips vary depending on your date, rainfall and so forth ... message me for more info and I will work with ya anyway I can. They range $50 per person (inner tubin and using your own tent) to $ 500 a couple (Moon Man cabin and float trip) ... but let me know when you are thinking of tripping and we can set something up to fit anyone's budget
We will provide ya with a recommended list of stuff ta tote along with ya
on your getaway but if ya forget something ... they gotta it at the store and more !!!
My fav is the ultra cool 2 man RIVER RUN ... yes that's a cooler in the middle to keep your
day items chilled !!!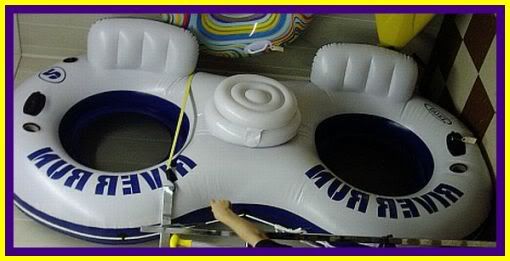 Take our 6 mile SOUTHFORK RIVER float on this little baby and when your done take it home with ya !!!
(while supplies last)
Sign the guest book to be eligible for discounts and free giveaways !