My trip to play the JUKE JOINT FESTIVAL in Clarksdale, Mississippi
Added June 24, 2011
I have always loved old cemeteries for their ability to shed so much light on the history of a region as well as the craftsmanship that goes into such areas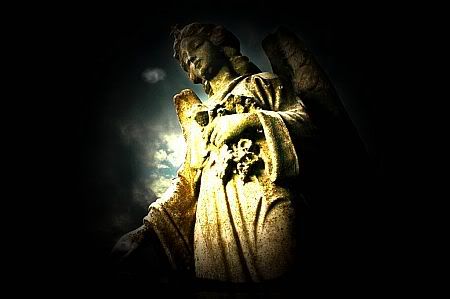 Had a day off while working a show in Memphis and decided to visit a few of my favorite haunts and put them on video.

The MEMPHIS CEMETERY TOURS

The first in this series and a lil darker than the rest this vid features a tour of one of the most historic cemeteries in the South ... ELMWOOD . A tad creepy, but not near has scary as the shorts, white socks and black Converse I was wearing while filming the tour. It was a hot Memphis day .

Elmwood was established as part of the Rural Cemetery Movement which swept the nation in the early to mid 1800s. It is a classic example of a garden cemetery with its park-like setting, sweeping vistas, shady knolls, large stands of ancient trees, and magnificent monuments.

During the Victorian Era, the popular view of death became romanticized; death was now represented by symbols including angels, flowers, and plants. These ideas are reflected in the many magnificent monuments, mausoleums and life-sized figures.

Elmwood is the final resting place of those who created Memphis history and has emerged today as Memphis' finest and oldest active cemetery.

The grounds of Elmwood Cemetery were entered on the National Register of Historic Places on March 20, 2002.
ELVIS "left the building" here over 30 years ago and settled in GRACELAND.

(contains footage from Elvis' 1977 funeral)

Elvis remained entombed at Forest Hill for two weeks. Some reports say that Vernon Presley intended for Elvis to be buried there temporarily, until burial permits could be issued for Graceland. Other sources say there was a body-snatching attempt, and Vernon got spooked, had Elvis exhumed - to be reburied at home. Either way, it was done in secret. Since Elvis was removed, the cemetery has maintained the crypt as a shrine, at their own expense. It is still empty, and for sale now. From what the cemetery staff told me, it ain't going cheap.

There was a brief service in the chapel of the mausoleum, just inside these doors. 150 friends, family and celebrities attended it. After a couple of short prayers and poems, his casket was wheeled to corridor Z of the mausoleum, and placed in the crypt. One by one, family paid their final respects. Elvis' dad Vernon was the last to kiss the coffin.

This is the Crystal Shrine Grotto, a magical religious sculpture shrine made of cement and five tons of quartz crystal. Commissioned by Memorial Park Cemetery (famous record producer Sam Phillips and Issac Hayes' final resting place among other notables) sculptor Donico Rodriguez started his three-dimensional homage to "Christ's Journey on the Earth from Birth to Resurrection" in the late thirties
This clip was recorded and produced at the OWL FARM SOUTH in the Ozark Mountains.

Myself on guitar and noisemakers and my long tyme friend SHANNON SMITH on vocals and bass
This lil drumsolo was taken with the RINGO CAM at the Buddy Holly festival in Clearlake, Iowa. In the SURFBALL ROOM ... the last place to be played by Buddy Holly, The Big Bopper, and Richie Valens. Waylon Jennings didn't get on the plane that night or he would have been with them.
Video of Halloween Trip to Florida 2010
A day off on the road in a hotel outside of NYC means we gotta hit the Big Apple. Besides we had someone to go see. Just strolling about town with my former road manager Terrell Lee
Parker (our Son) makes Momma a snowman at our old house in Cherokee Village . He was three years old ... and tymes like this should never be forgotten .
Just a lil peak at what goes on day ta day here at the farm ... peaceful and quiet out here in the country.

This video features Spotlight and Valentine have a little romp in the snow before feeding tyme !
hope ya dig it !!!
This video was made circa 1998 ...mid trip between Tulsa to Los Angeles.
At the time I was studying audio/visual samples.
The images were captured on my cam and the sound samples from a Teac 244 Some images/audio were borrowed from presets as well.
Mixed and edited on a PS2 in my bunk on the tourbus.

rjjukes.com

Yes this is what happens when your bored onna long trip with nothing but tyme


Film from the aspect of a touring musician.

It's not all glamor and glory. It's a hard job to maintain for years. It's not uncommon to spend 15 hours traveling for those 45 minutes of stage the audience sees .

Spring River - in the Ozark Mountains.
On a good day Spring river may host from 7,000 to 10,000 people canoeing ...
along with a fair share of stabbings, drug bashes, fights
and such that are reported by our police and fire department to be as every-weekend events. A respectable $50 million-a-year tourist trade in Fulton and Sharp counties -- is drifting to hell. it's gonna be a long road but we can change and adapt to make it all work for everybody !
The RJ Jukes home office located somewhere deep in the OZARK MOUNTAINS of Arkansas. this is where all that web fodder for the rjjukes.com site comes from folks.
Ya'll come back now
y'hear !
Don't forget ta visit the ONLINE STORE

If you are looking for a specific item and don't see it on my site email me !
I am affiliated with several other buyers and have had a very good track record locating hard to find stuff !
to get started !