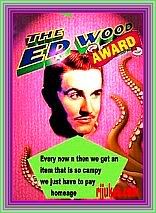 The ED WOOD AWARD

Here on the outpost I go outta my way ta list item for sale that ya just may not see anywhere else !

Occasionally I come across an item that's's so damn bad ... it's Good and you will see this Award granted. Some of ya folks will get this others will pass ... but believe this stuff is for real and collectible ! items with this award will be marked by this pic !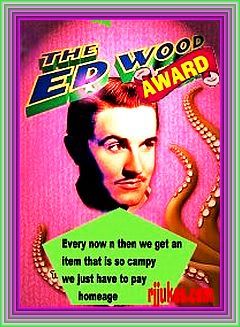 Click on any of the recipient item's image below to check out what had gotten this prestigious out to lunch Award !

Not familiar with our founding inspiration of low budget cool stuff ?

Click the Ed Wood Award below (and scroll down the page) to watch a full length documentary on the man, the myth, the legend that was ED WOOD JR !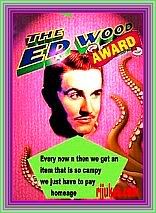 Sign the guest book to be eligible for discounts and free giveaways !
STILL MORE ABOUT UNCLE ED !!!


I originally caught this back in 1996 in its one week run at a movie theatre. ED Wood has always been one of my Favorite low budget directors !
ENTER IF YOU DARE
WATCH THIS CLASSIC DOCUMENTARY FOR FREE RIGHT HERE ON THE RJ JUKES

INTERNET OUTPOST !
CLICK THE LINK BELOW TO WATCH A COMPLIMENTARY COPY IN IT"S ENTIRETY !
THE HAUNTED WORLD OF ED WOOD JR

Documentary about the infamous Edward D. Wood Jr. covering his life and movies. There are interviews with people who worked with him or knew him. They include: Vampira, Dolores Fuller, Bela Lugosi Jr., Loretta King, Gregory Walcott and Paul Marco. Interviews are mixed with clips from the movies or some bizarre recreations. It is interesting (somewhat) but was this really needed? I've seen all of Wood's films and they're just terrible. Wood had ambitions but not a bit of talent to carry them out. I wouldn't say he was the worst director ever but he's down there. Do we really need a docu on a very mediocre film maker? I do like the fact that they didn't try to make Wood out to be some sort of saint. More than a few of those interviewed (especially Lugosi Jr.) pretty much hated the man and it comes through loud and clear. Also they totally ignore his films in the adult film industry in the 1960s and 70s. Still it's of interest if you're a Wood fan. The best interviews are with Vampira (who tears Wood apart) and Dolores Fuller (a long time girlfriend).