Thanx to everyone for playing
You have found one of the Secret Rooms !
I have scattered several of these hidden links throughout my website and they all lead to FREE GIVEAWAYS

So have fun looking !
If you have found this room ... leave your post on my guest book an your free giveaway will be sent to you free !!!
Post I have found secret room #2 !

JOHNNY DEPP DVD GIVEAWAY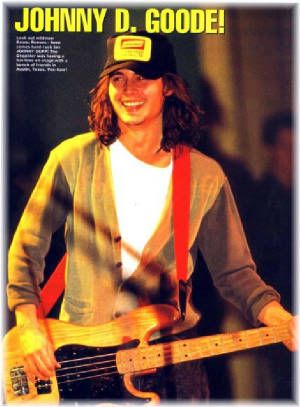 Johnny Depp started smoking at 12, and played guitar in a rock band called The Flame. He lost his virginity to a groupie at 13, in the band's van. His parents divorced when Depp was in high school, and Depp soon dropped out to pursue music full-time. Rechristened The Kids and later Six Gun Method, the band moved to Los Angeles, and had their biggest moment as an opening act for Iggy Pop. Depp struggled to get by, but eventually met Nicolas Cage, who suggested he try auditioning for film and TV work. His first major role was in A Nightmare on Elm Street, as a young boy plagued by bad dreams. Johnny joined the band ROCK CITY ANGELS and even penned a song. "MARY" on the GEFFEN debut ... but soon left the group when he was offered a part on Fox network's first show, 21 Jump Street, playing a baby-faced cop recruited to infiltrate high schools and young criminals' gangs. At the time, 21 Jump Street was Fox's biggest (and only) hit, but Depp abhorred being a "teen heartthrob" and left after three seasons.
Thanx to everyone for playing

MORE JOHNNY DEPP INFO ABOUT MY ASSOCIATION WITH THE GOOD CAPTIN' THAN YA PROLLY EVER WANTED TA KNOW

This was originally taken from AMP mad in Cali and prob captures the story closer than anyone has !
Click the pages below to see enlarged versions of the mag !

SPECIAL THANX TO JOHNNY DEPP READS FOR ALL THE GREAT WORK AND INFO THEY BRING TO THE TABLE

Click the image below to check 'em it !
VISIT THE VAMPYRES DEN or my HORROR FILMS section for all your Halloween needs !